Shockwatch ShockDot are a cost-effective solution for detecting the mishandling of products and packages during shipment. Handlers are alerted that a package is being monitored and therefore, requires extra care reducing the incidence of damage related costs. ShockDot indicators turn red when a potentially damaging impact occurs.
Shockwatch ShockDot indicators are a simple solution for identifying shipments that may be damaged and driving accountability in the supply chain
These impact indicators are a proven visual deterrent to improper handling and reduce the incidence of damage by up to 60%
Shockwatch ShockDot impact indicators are omni-directional impact indicators
Always Active: provides indisputable evidence of mishandling
Range of Sensitivity: 25G – 100G
Size: 9.5cms edge to edge.
Confirms effectiveness of packaging of delicate products
Tamperproof
QR Coded and Serialized for Traceability: To verify authenticity of the ShockDot scan the QR code and enter the Serial Number
Key Specifications
Sensitivity range 25 – 100G
Impact duration 0.5 – 50ms
Tolerance ±15% at 20°C / 68°F, 1 ATM
Operating temperature -25°C to 80°C / -13°F to 176°F
Security Tamperproof, Serialized and QR code
Adhesive Acrylic Product life 2 years from date of sale, when stored at 20°C / 68°F, 1 ATM Storage recommendations 20°C / 68°F, 1 ATM, 0-99% RH Non-condensing
Weight (varies by sensitivity) 1.98g
Dimensions 3.8 in x 3.8 in / 96.52 mm x 96.52 m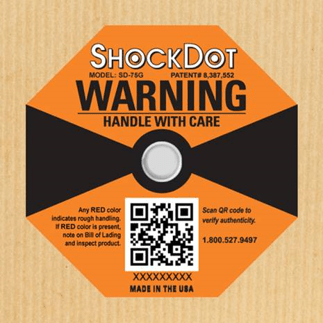 Selection Guide
Available in five sensitivities, as indicated by the five different colours – simply match the sensitivity of the ShockDot impact indicator to the level of impact the product and packaging can withstand based on any non-operating shock specifications that the product may have or select the Shockwatch ShockDot impact indicator based on the mass and size of your shipment from our Selection Guide.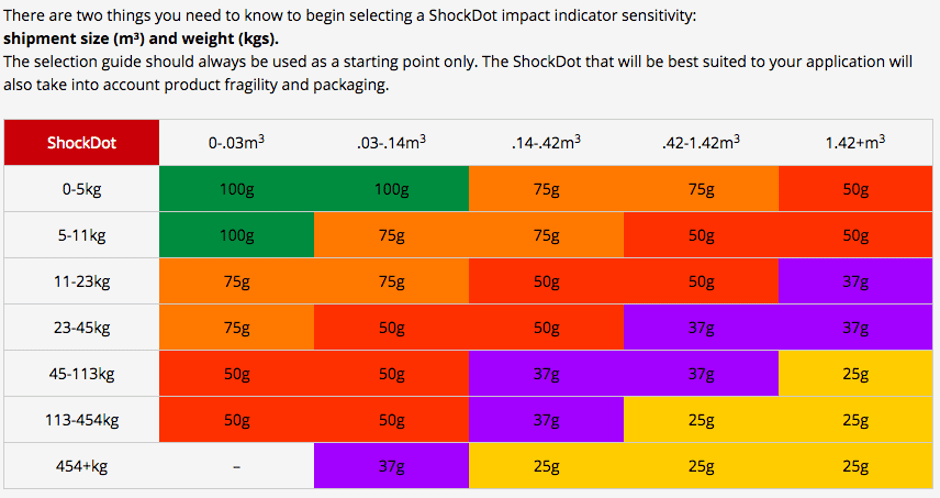 Lets Talk!
We are always happy to hear from you regarding questions and/or technical help. Just give us a call on 0207 739 3344 or fill out our form below.