ShockWatch Clip impact indicators are tamperproof devices that turn bright red to indicate mishandling.
These impact indicators can be mounted directly to products to understand the conditions experienced by the product even when it is outside protective packaging.
ShockWatch Clips are designed to protect products up to 500 cubic feet in volume and weighing up to 10,000 pounds. Other indicators and recorders are available from ShockWatch for additional sensitivities and monitoring requirements.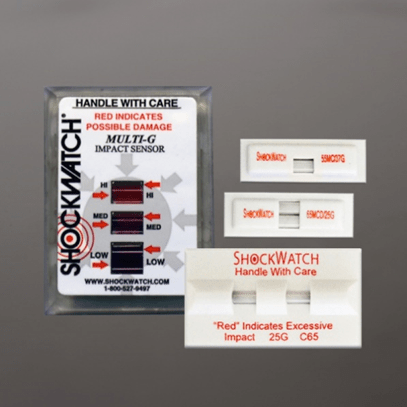 Shockwatch Clip Applications
Consumer Electronics
Electronics
Medical Devices and Supplies
Energy and Utilities
Retail
Marine
Mining
Furniture and Fixtures
Aerospace and Defence
Sports Equipment
Biotechnology and Drugs
Food Service
Auto and Truck Parts
Equipment Rental
Industrial Equipment
Photography
Advertising
Media
Construction – Supplies and Fixtures
Scientific and Technical Instruments
Specifications
Sensitivity Range 10G, 15G, 25G, 37.5G, 50G, 75G, 100G, (Multi-G – 25G/50G/75G) 10G, 15G, 25G, 37.5G, 50G, 75G, 100G
Impact Duration 0.5 – 50ms 0.5 – 50ms
Tolerance ±15% at 68°F, 1 ATM ±15% at 20°C, 1 ATM
Operating Temperature -13°F to 176°F -25°C to 80°C
Adhesive Acrylic
Shelf Life 2 years when stored at 68°F, 1 ATM 2 years when stored at 20°C
Selection Guide
Product Name Sensitivity
CXX85 10G
CXX75 15G
CXX65 25G
CXX55 37.5G
CXX47 50G
CXX35 75G
CXX30 100G
Multi-G Clip 25G, 50G, 75G (standard)
Lets Talk!
We are always happy to hear from you regarding questions and/or technical help. Just give us a call on 0207 739 3344 or fill out our form below.