Shock & Tilt Sensor Solutions
Quality Assured Safe Transit to your customer's door!
Shock & Tilt Sensors Prevent Damage to Fragile Goods
Ship your fragile, sensitive, perishable, or calibrated goods without surrendering control of their handling. Prevent mishandling every step of the way with ShockWatch Impact Indicators. Affixed directly to your goods or packaging, our shock and tilt sensors detect and record impact and mishandling of fragile, sensitive, or calibrated products during transportation.
Thousands of the best-known companies in the world trust their shipments to ShockWatch every day. No other shock and tilt sensors are more recognized by carriers or offers a better reliability record. These effective, attention-getting devices act as a strong visual deterrent to unacceptable handling, no matter what you're shipping.
Shock & Tilt Sensor Products
The ShockWatch Program
A key element in the success of ShockWatch Impact Indicators is the available companion tools. Used in conjunction with the indicator labels, these tools include alert stickers, alert tape, posters, and supporting documentation. The complete product offering constitutes a highly effective damage reduction and prevention program.
Implementation of this damage prevention program leads to psychological reinforcement of proper handling procedures and changes the behaviour of material handlers. It provides a highly visible deterrent to mishandling throughout the supply chain.
This program is most successful with collaboration from the carriers: the shipping, warehousing, and packaging departments.
The ShockWatch program includes the following:
Alert Sticker:
Affixed to the Bill of Lading, it cautions the carrier and consignee that the shipment is monitored
Companion Label:
Provides an additional visual warning and instructions on what to do if mishandling occurs
Click here for Implementation Guide
Benefits for a More Profitable Business
ShockWatch shock sensors:
Reduces product damage and loss incurred during transportation or storage
Protects fragile, sensitive, or calibrated goods in transit
Provides indisputable evidence of mishandling
Acts as a visual deterrent to improper handling
Alerts recipient to inspect contents before acceptance
Ensures chain of accountability for all product handling
Protects against/reduces warranty claims
Confirms effectiveness of packaging
Identifies trouble spots in supply chain, from production to transportation and storage
Lowers production yield losses
Ensures quality of product from dock to dock
Increases customer satisfaction and provides a visible marketing edge
Impact & Tilt Solutions
Impact Indicators
Tilt Indicators
Impact Monitors
Impact Recorders
Impact Indicator Applications
Automotive components
Commercial appliances
Semiconductor devices
Computer hard drives
and much more
Impact Indicator Product Selection Guide
Using This Selection Guide:
This selection guide and sensor activation table should always be used as a starting point. Packaging design and construction may affect the correlation between drop height and ShockWatch activation.
This guide is for reference only. We recommend that you speak to a ShockWatch representative before placing an order.
Two things you need to know to select a ShockWatch sensitivity:
Cubic feet of shipment (height × width × depth)
Weight of shipment
NOTE: Packaging and construction may affect the correlation between drop height and ShockWatch activation. This table is intended as an approximate guide only. Minimal testing is suggested.
ShockWatch Label G-Force Guide
Yellow Label = 25G
Purple Label = 37G
Red Label = 50G
Orange Label = 75G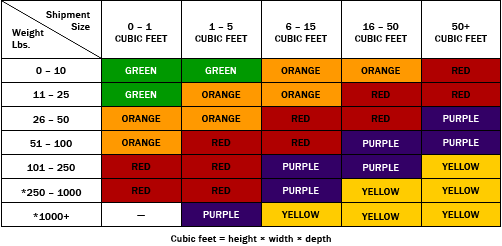 Lets Talk!
We are always happy to hear from you regarding questions and/or technical help. Just give us a call on 0207 739 3344 or fill out our form below.